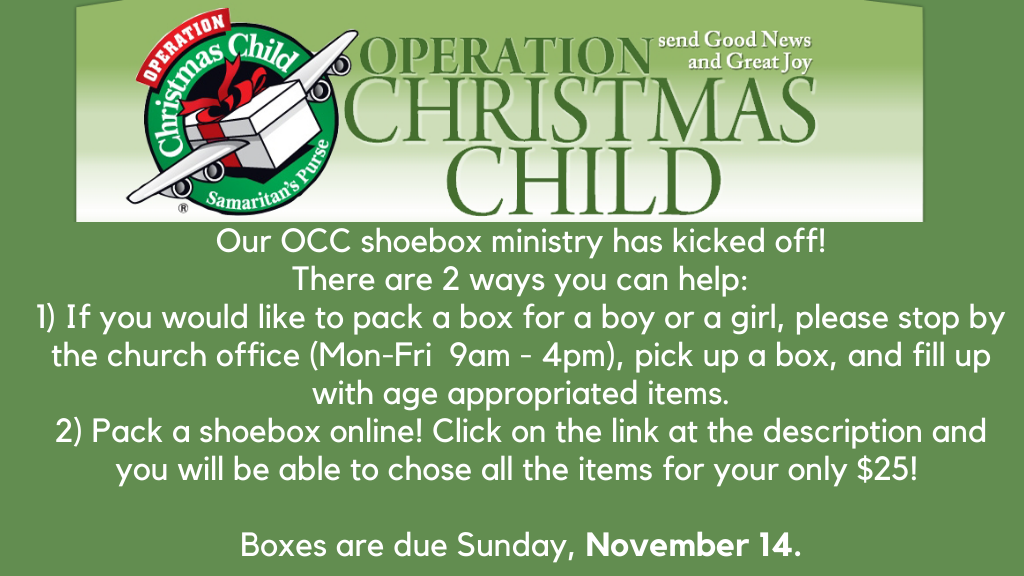 October 13, 2021 12:00am
Address: Oakwood Baptist Church, 3520 Mineral Springs Rd, Lexington, SC US 29073
Contact: Joyce Hack
Operation Christmas Child ministry kicked-off September 26. There are 2 ways you can make a difference in a child's life this Christmas:
1) IN PERSON: Pick up a box at the office, fill-up with age appropriated items and drop-off at the church.
There are several opportunities for you to drop-off your OCC shoebox:
At the church office during business hours (Monday through Friday 9:00 AM to 4:00 PM)
Wednesday Evening: 6:00 PM to 7:00 PM.
Saturday Evening Service at 6:00 PM to 7:00 PM.
Sunday Morning from 9:00 AM to 12:30 PM.
2) ONLINE: You can fill-up a box online for only $25! Click on the link and start shopping for a little boy or girl at the comfort of your own home: https://build-a-shoebox.samaritanspurse.org/view/bc59b7ca-3cd7-4f04-99a3-3dc72e9d94ec
The last week to drop-off the Operation Christmas Child shoeboxes is Sunday, November 7 through Sunday November 14.